Strict Standards
: Non-static method fileio::read_file() should not be called statically in
/www/htdocs/sgraman/blog/scripts/sb_fileio.php
on line
13
Strict Standards
: Non-static method arrays::explode_key() should not be called statically in
/www/htdocs/sgraman/blog/scripts/sb_entry.php
on line
254
Strict Standards
: Non-static method fileio::read_file() should not be called statically in
/www/htdocs/sgraman/blog/scripts/sb_fileio.php
on line
13
Strict Standards
: Non-static method fileio::read_file() should not be called statically in
/www/htdocs/sgraman/blog/scripts/sb_fileio.php
on line
13
Strict Standards
: Non-static method fileio::read_file() should not be called statically in
/www/htdocs/sgraman/blog/scripts/sb_fileio.php
on line
13
Strict Standards
: Non-static method fileio::file_listing() should not be called statically in
/www/htdocs/sgraman/blog/scripts/sb_fileio.php
on line
29
Strict Standards
: Non-static method fileio::file_listing() should not be called statically in
/www/htdocs/sgraman/blog/scripts/sb_fileio.php
on line
29
Strict Standards
: Non-static method fileio::read_file() should not be called statically in
/www/htdocs/sgraman/blog/scripts/sb_fileio.php
on line
13
Strict Standards
: Non-static method fileio::write_file() should not be called statically in
/www/htdocs/sgraman/blog/scripts/sb_fileio.php
on line
17
Strict Standards
: Non-static method fileio::make_dir() should not be called statically in
/www/htdocs/sgraman/blog/scripts/classes/fileio.php
on line
70

Stockholm har fått ett nytt tillfälligt landmärke: ett tolv kvadratmeter rött hus med vita knutar på Globen. Huset är tolv kvadratmeter stort och tre meter högt. Konstnären Mikael Genberg menar att konstverket förenar två starka symboler för Sverige, Globen och den röda stugan med sina vita knutar, utan att för den sakens skull bli alltför nationalistiskt.
Huset på Globen är en del i det omfattande Månhusprojektet som går ut på att placera ett likadant hus på månen år 2012. Med i projektet finns bland andra Pär Nuder, ordförande i föreningen Månhusets Vänner. Månhusprojektet startade år 1999 med Mikael Genberg i spetsen. Nu är flera hundra personer inblandade i projektet. Tanken är att huset på månen ska fyllas med drömmar. För en dollar får vem som helst skicka med ett foto, ett filmklipp eller annat dokument som symboliserar en dröm eller vision. Pengarna går till en stiftelse som årligen delar ut ett pris till någon som gör jorden till en bättre plats att leva på.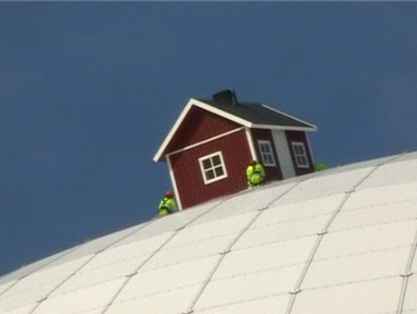 ---
Add Comment
Fill out the form below to add your own comments.
Strict Standards
: Non-static method fileio::read_file() should not be called statically in
/www/htdocs/sgraman/blog/scripts/sb_fileio.php
on line
13
---