Strict Standards
: Non-static method fileio::read_file() should not be called statically in
/www/htdocs/sgraman/blog/scripts/sb_fileio.php
on line
13
Strict Standards
: Non-static method arrays::explode_key() should not be called statically in
/www/htdocs/sgraman/blog/scripts/sb_entry.php
on line
254
Strict Standards
: Non-static method fileio::read_file() should not be called statically in
/www/htdocs/sgraman/blog/scripts/sb_fileio.php
on line
13
Strict Standards
: Non-static method fileio::read_file() should not be called statically in
/www/htdocs/sgraman/blog/scripts/sb_fileio.php
on line
13
Strict Standards
: Non-static method fileio::read_file() should not be called statically in
/www/htdocs/sgraman/blog/scripts/sb_fileio.php
on line
13
Strict Standards
: Non-static method fileio::file_listing() should not be called statically in
/www/htdocs/sgraman/blog/scripts/sb_fileio.php
on line
29
Strict Standards
: Non-static method fileio::file_listing() should not be called statically in
/www/htdocs/sgraman/blog/scripts/sb_fileio.php
on line
29
Strict Standards
: Non-static method fileio::read_file() should not be called statically in
/www/htdocs/sgraman/blog/scripts/sb_fileio.php
on line
13
Strict Standards
: Non-static method fileio::write_file() should not be called statically in
/www/htdocs/sgraman/blog/scripts/sb_fileio.php
on line
17
Strict Standards
: Non-static method fileio::make_dir() should not be called statically in
/www/htdocs/sgraman/blog/scripts/classes/fileio.php
on line
70
Strict Standards
: Non-static method fileio::read_file() should not be called statically in
/www/htdocs/sgraman/blog/scripts/sb_fileio.php
on line
13
Strict Standards
: Non-static method arrays::explode_key() should not be called statically in
/www/htdocs/sgraman/blog/scripts/sb_entry.php
on line
254
Strict Standards
: Non-static method fileio::strip_extension() should not be called statically in
/www/htdocs/sgraman/blog/scripts/sb_fileio.php
on line
41
Strict Standards
: Non-static method fileio::read_file() should not be called statically in
/www/htdocs/sgraman/blog/scripts/sb_fileio.php
on line
13
Strict Standards
: Non-static method fileio::read_file() should not be called statically in
/www/htdocs/sgraman/blog/scripts/sb_fileio.php
on line
13
Strict Standards
: Non-static method fileio::read_file() should not be called statically in
/www/htdocs/sgraman/blog/scripts/sb_fileio.php
on line
13
Strict Standards
: Non-static method arrays::explode_key() should not be called statically in
/www/htdocs/sgraman/blog/scripts/sb_entry.php
on line
254
Strict Standards
: Non-static method fileio::strip_extension() should not be called statically in
/www/htdocs/sgraman/blog/scripts/sb_fileio.php
on line
41
Strict Standards
: Non-static method fileio::read_file() should not be called statically in
/www/htdocs/sgraman/blog/scripts/sb_fileio.php
on line
13
Strict Standards
: Non-static method fileio::read_file() should not be called statically in
/www/htdocs/sgraman/blog/scripts/sb_fileio.php
on line
13
Strict Standards
: Non-static method fileio::read_file() should not be called statically in
/www/htdocs/sgraman/blog/scripts/sb_fileio.php
on line
13
Strict Standards
: Non-static method arrays::explode_key() should not be called statically in
/www/htdocs/sgraman/blog/scripts/sb_entry.php
on line
254
Strict Standards
: Non-static method fileio::strip_extension() should not be called statically in
/www/htdocs/sgraman/blog/scripts/sb_fileio.php
on line
41
Strict Standards
: Non-static method fileio::read_file() should not be called statically in
/www/htdocs/sgraman/blog/scripts/sb_fileio.php
on line
13
Strict Standards
: Non-static method fileio::read_file() should not be called statically in
/www/htdocs/sgraman/blog/scripts/sb_fileio.php
on line
13
Strict Standards
: Non-static method fileio::read_file() should not be called statically in
/www/htdocs/sgraman/blog/scripts/sb_fileio.php
on line
13
Strict Standards
: Non-static method arrays::explode_key() should not be called statically in
/www/htdocs/sgraman/blog/scripts/sb_entry.php
on line
254
Strict Standards
: Non-static method fileio::strip_extension() should not be called statically in
/www/htdocs/sgraman/blog/scripts/sb_fileio.php
on line
41
Strict Standards
: Non-static method fileio::read_file() should not be called statically in
/www/htdocs/sgraman/blog/scripts/sb_fileio.php
on line
13
Strict Standards
: Non-static method fileio::read_file() should not be called statically in
/www/htdocs/sgraman/blog/scripts/sb_fileio.php
on line
13
Strict Standards
: Non-static method fileio::read_file() should not be called statically in
/www/htdocs/sgraman/blog/scripts/sb_fileio.php
on line
13
Strict Standards
: Non-static method arrays::explode_key() should not be called statically in
/www/htdocs/sgraman/blog/scripts/sb_entry.php
on line
254
Strict Standards
: Non-static method fileio::strip_extension() should not be called statically in
/www/htdocs/sgraman/blog/scripts/sb_fileio.php
on line
41
Strict Standards
: Non-static method fileio::read_file() should not be called statically in
/www/htdocs/sgraman/blog/scripts/sb_fileio.php
on line
13
Strict Standards
: Non-static method fileio::read_file() should not be called statically in
/www/htdocs/sgraman/blog/scripts/sb_fileio.php
on line
13
Strict Standards
: Non-static method fileio::read_file() should not be called statically in
/www/htdocs/sgraman/blog/scripts/sb_fileio.php
on line
13
Strict Standards
: Non-static method arrays::explode_key() should not be called statically in
/www/htdocs/sgraman/blog/scripts/sb_entry.php
on line
254
Strict Standards
: Non-static method fileio::strip_extension() should not be called statically in
/www/htdocs/sgraman/blog/scripts/sb_fileio.php
on line
41
Strict Standards
: Non-static method fileio::read_file() should not be called statically in
/www/htdocs/sgraman/blog/scripts/sb_fileio.php
on line
13
Strict Standards
: Non-static method fileio::read_file() should not be called statically in
/www/htdocs/sgraman/blog/scripts/sb_fileio.php
on line
13
Strict Standards
: Non-static method fileio::read_file() should not be called statically in
/www/htdocs/sgraman/blog/scripts/sb_fileio.php
on line
13
Strict Standards
: Non-static method arrays::explode_key() should not be called statically in
/www/htdocs/sgraman/blog/scripts/sb_entry.php
on line
254
Strict Standards
: Non-static method fileio::strip_extension() should not be called statically in
/www/htdocs/sgraman/blog/scripts/sb_fileio.php
on line
41
Strict Standards
: Non-static method fileio::read_file() should not be called statically in
/www/htdocs/sgraman/blog/scripts/sb_fileio.php
on line
13
Strict Standards
: Non-static method fileio::read_file() should not be called statically in
/www/htdocs/sgraman/blog/scripts/sb_fileio.php
on line
13

Jag skulle vilja slå ett slag för tunnelbana till Nacka. Ända sedan den blå linjen planerades och byggdes var tanken att den skulle fortsätta i "andra ändan" från Kungsträdgården till Nacka men den har alltid skjutits på framtiden med diverse ursäkter, mestadels "det blir för dyrt". Men allting blir bara dyrare och dyrare och man kan inte skjuta på framtiden in absurdum. Om man hade byggt vidare redan 1986 när senaste utbyggnaden var klar hade Nacka haft tunnelbana för länge sedan och till ett mycket - i dagens penningvärde - förmånligt pris. Jag vill härmed lägga fram mitt egna ovetenskapliga men högst seriösa förslag hur man kan göra en bra och kostnadseffektiv utbyggnad av blå linjen till Nacka.
Det finns flera orsaker till varför tunnelbanan borde förlängas till Nacka, bl a:
* Det ständigt ökande antalet stockholmare redan nu sätter stor press på det befintliga tunnelbanenätet.
* I Nacka och Värmdö kommun bor sammanlagt ca 100.000 personer, underlag finns för att den nya tunnelbanelinjen inte skulle rulla runt med tomma vagnar.
* Busstrafiken Slussen – Nacka/Vämdö reduceras, med mindre utsläpp som följd.
* Själva Slussen är som bekant på väg att kollapsa och skall byggas om. Även om man nu bygger om Slussen så kommer Slussen att förbli ett nålsöga och en mindre bra bytespunkt. Färre bussar minskar trycket på Slussen.
För en tid sedan lade SL fram ett förslag som gick ut på att dra en förlängning av blå linjen från Kungsträdgården via Slussen, Södermalm, Henriksdal och vidare ut på Nacka. Att dra linjen via Slussen tycker jag är helt befängt. Det blir en tidsödande omväg för resenärer till/från Nacka mot T-centralen. Det är mycket bättre att bygga - som jag tror ursprungsförslaget är - direkt vidare från Kungsträdgården via Djurgården och ner till Henriksdal, se kartan nedan.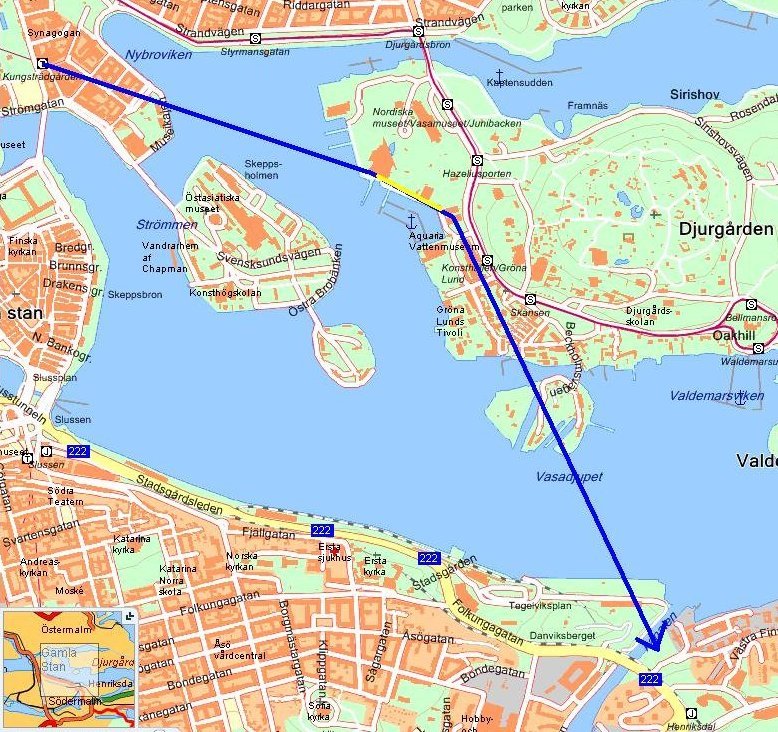 En sådan sträckning skulle kunna få en station på Djurgården vid Vasamuseet (Stockholms populäraste turistmål) med en uppgång i norr mot Vasamuseet och Nordiska Museet och en i söder mot Skansen/Hazeliusporten och Vattenmuseet och med gångavstånd Gröna Lund (gul markering på kartan).
Vad gäller själva tunneln kan man med fördel spränga ett rör och inte två och därmed spara på kostnader. Med dagens teknik ska det gå att uppnå hög säkerhet även om en olycka händer så att tåg bromsas/stoppas snabbt och automatiskt. Stockholms tunnelbana har redan idag en hög säkerhet och inga svåra och allvarliga olyckor har någonsin inträffat - och ska inte heller behöva hända i framtiden. En tunnel behövs från Kungsträdgården till Henriksdal där en ny busstation ansäggs som ersätter den i Slussen (Nr 1 på kartan nedan). Tunneln går under busstationen och kommer upp över jord därefter varpå den fortsätter på befintliga spår för Saltsjöbanan fram till Saltsjö-Järla.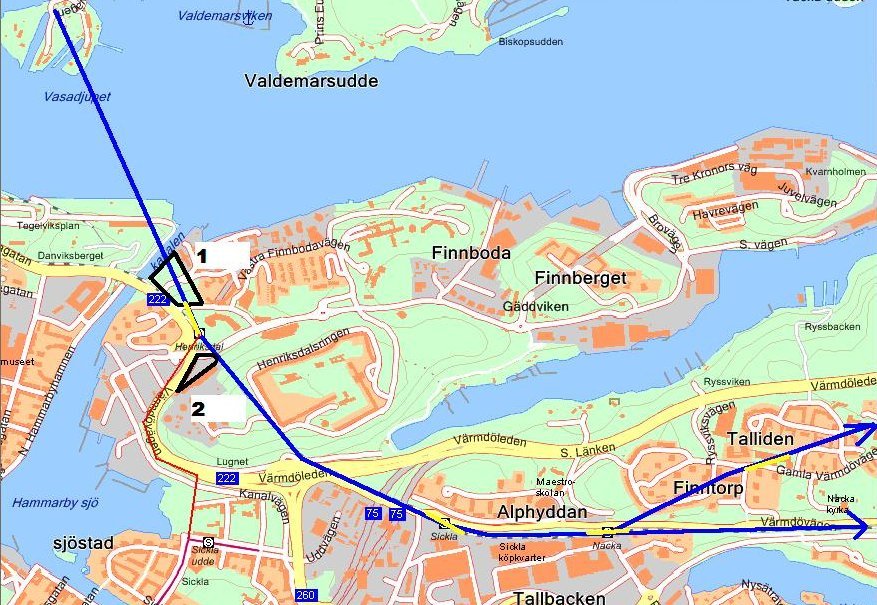 Genom att utnyttja Saltsjöbanans nuvarande spår/banvall ska man kunna spara kostnader ytterligare. Under Henrikdalsringen behövs en ny tunnel och över värmdöleden en ny bro då Saltsjöbanan mestadels är ett spår. Sammantaget ska breddningen ner till Saltsjö-Järla och ev ytterligare broar kunna bli mycket billigare än en helt nysprängd tunnel plus att man kan utnyttja befintlig infrastruktur.
För att få plats med busstationen i Henriksdal behöver man spärra av Bageribacken. En alternativ placering vore vid Nr 2 på kartan ovan. Den nya busstationen får också anslutning till Tvärspårvägen som byggs ut från Sickla udde via Lugnet till Henriksdal. Ev kan man bygga den vidare till Slussen men jag anser inte det ekonomiskt försvarbart plus att spårvägen inte kan svälja alla resenärer under rusningstid.
Man kan förmoda att en majoritet av resenärer från Nacka inåt stan inte stiger av vid Henriksdal utan reser vidare mot T-centralen, endast de som är intresserade av att via Slussen resa vidare söder ut kommer att gå av. Gissningsvis är det 30-40% av den sammanlagda volymen av resenärer till Slussen idag, och för dem bör en skyttelbuss inrättas mellan Henriksdal och Slussen. Den bör få en tidtabell som i mycket liknar t ex linje 3 från Södersjukhuset, dvs mycket täta avgångar rusningstid och relativt tätt övriga tider på dagen.
Nuvarande hållplatser vid Sickla och Nacka blir T-banestationer i framtiden, och i Nacka kommer linje 10 och 11 att dela på sig. Linje 11 går via Finntorp/Talliden, Nacka Gymnasium, Cylindervägen/Nacka Strand till Jarlaberg. Eventuellt kan en station också byggas vid Vikdalen men jag tror inte det finns passagerarunderlag och ekonomi för det. En fördel med att lägga linje 11 hit är att man får en direktförbindelse mellan Nacka Strand och Kista.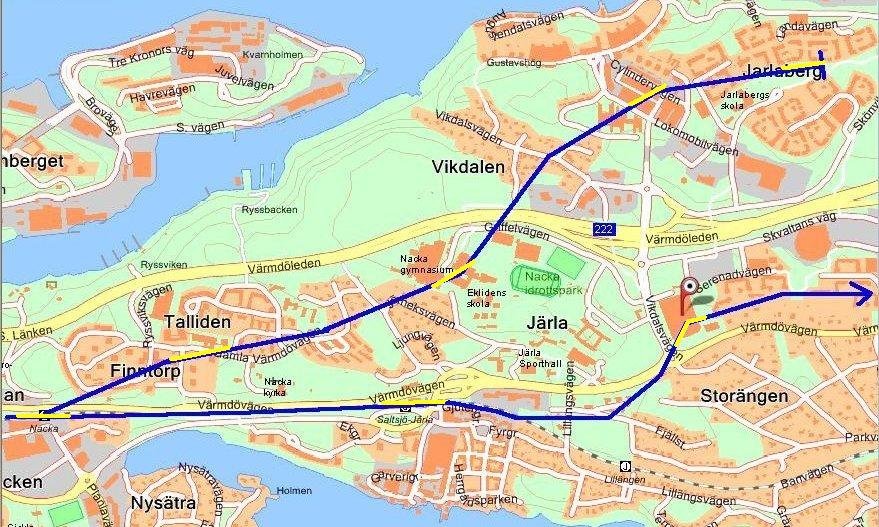 Vid Saltsjö-Järla lämnar T-banan banvallen och går ned i tunnel till Nacka Forum. Förmodligen behöver tunneln gå ända fram till Skurusundet där en bro tar vid och sedan forsätter den över jord till Orminge. I anslutning till stationen vid Saltsjö-Järla kan man bygga den vagnhall och verkstad som kommer att behövas.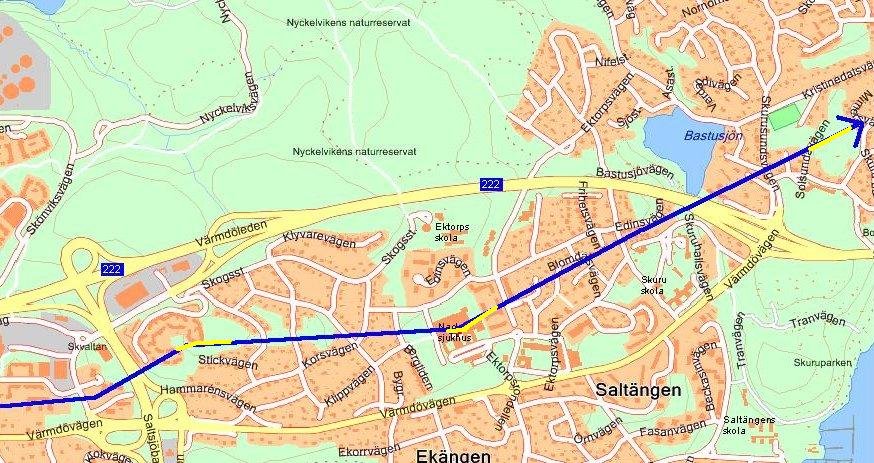 Det lite svårt att säga var bra placeringar av stationerna är utefter linjen, men jag skulle kunna tänka mig att Sluttningsvägen, Nacka Närsjukhus och Kristinedalsvägen täcker in så många boende som möjligt utmed denna del.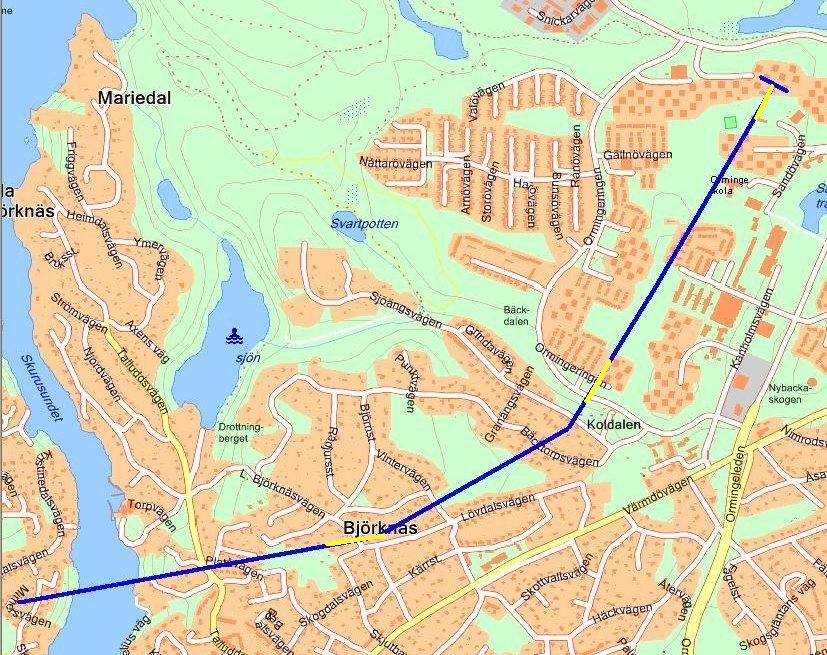 Efter Skurusundet skulle det finnas plats till ytterligare tre stationer: Björknäs, Koldalen och Orminge som blir ändstation. Totalt skulle det blir 16 stationer enligt följande fördelning
Linje 10: Djurgården, Henriksdal, Sickla, Nacka, Saltsjö-Järla, Nacka Forum, Sluttningsvägen, Nacka Närsjukhus, Kristinedalsvägen, Björknäs, Koldalen och Orminge (12 stationer).
Linje 11: Djurgården, Henriksdal, Sickla, Nacka, Finntorp/Talliden, Nacka Gymnasium, Cylindervägen/Nacka Strand och Jarlaberg (8 stationer).
Alternativa sträckningar finns naturligvis. På kartan nedan har jag skissat en med grön markering gentemot huvudförslagets blå. Eftersom det finns flera gemensamma punkter på de båda sträckningarna är en komibnation möjlig av blå eller grön sträckning om man så önskar. På den första sektionen av gröna sträckningen har man fördelen av att kunna utnytta Saltsjöbanans banvall ytterligare två hållplatser, till Storängen. Först därifrån måste en tunnel sprängas. Nuvarande Saltsjöbanan får då sin ändstation vid Storängen. Ett minus med detta förslag är att Nacka Forum mister sin T-banestation.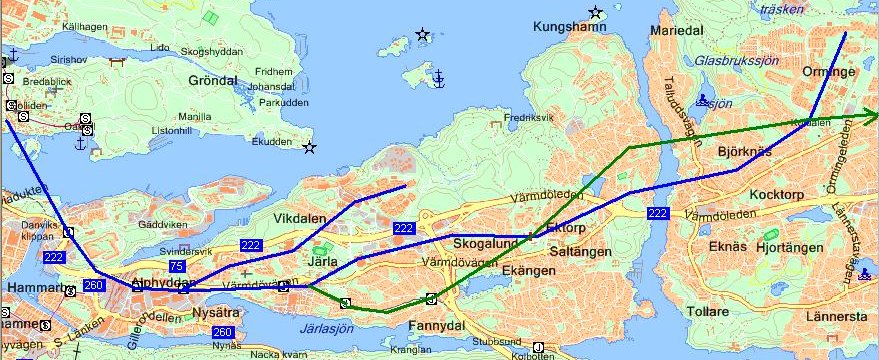 Andra alternativa sektionen mellan Nacka Närsjukhus och Koldalen skulle ge invånarna i Duvnäs Utskog tunnelbana medans Björknäs får en annan placering av sin station. Bron över Skurusundet skulle också bli kortare (och billigare) med detta alternativ. Från Koldalen kan man också sikta vidare österut mot Backeböl och Gustavsvik vilket dock gör att Orminge blir utan T-bana och det håller jag inte för rimligt.
Sammanfattningningsvis skulle det bli ungefär så här:
Linje 10 förlängs från Kungsträdgården till Orminge
Linje 11 förlängs från Kungsträdgården till Jarlaberg
Ny busstation byggs i Henriksdal
Anslutning av Tvärbanan från Sickla strand till Henriksdal
Saltsjöbanan från Slussen till Saltsjö-Järla läggs ner
Glasklart, eller hur? Bara att sätta igång att bygga :)
---
Det stämmer inte att reseunderlaget till Djurgården är dåligt.
Djurgården är Europas femte största turistattraktion i absoluta tal, om man räknar samman alla besökare under ett år.
Detta beror på att flera av Stockholms absolut största turistattraktioner finns samlade här: Skansen, Vasamuseet, Gröna Lund, Nordiska Museet, Liljevalchs, Aquaria, Waldemarsudde och Rosendal.
...
Förslaget här ovan kan dock förbättras!
Exempel:
Station Djurgården läggs under vattnet mellan Skeppsholmen och Djurgården, med uppgång i båda ändar. Därmed får både Skeppsholmen och Djurgården (Allmänna Gränd) tunnelbana.
Söderut anläggs en station på Östra Söder (under Sofia kyrka) med uppgångar åt Nytorget, Erstagatan och Norra Hammarbyhamnen.
Efter det en station i Hammarby Sjöstad (Henriksdal kan använda Saltsjöbanan).
Sedan ut mot Forum Nacka med en station i Sickla. Linje till Jarlaberg är helt onödigt om man placerar stationen i Forum Nacka norr om Nacka Forum med uppgångar åt båda håll.
Att dra tunnelbanan för långt ut ska man kanske akta sig för! Bättre då med en större bussterminal i Nacka Forum, och sedan dra en ny gren av Saltsjöbanan ut till Gustavsberg (mycket billigare än tunnelbana).
---
---
Har du fått någon respons av politiker på ditt förslag?
Kanske dags att starta en namninsamling. Nu har ju de flesta partier sagt att dom vill se tunnelbana till nacka så det börjar bli dags för dom att "upp till bevis".
Hälsningar/Gustaf
---
http://www.sparvagssallskapet.se/forum/ ... 64#p232964
http://www.yimby.se/forum/thread.aspx?i ... ed#fp10841
---
---
Beijing
där det för närvarande pågår utbyggnad av 9 linjer samtidigt. Är Stockholm en stad eller en liten by?
---
Gillar speciellt Huvudidén eftersom att det verkligen behövs. Därimot tycker jag att stationerna ska vara Kungsträdgården, Djurgården, Henriksdal, Sickla, Forum Nacka, Ektorps Centrum, Björknäs centrum, Orminge Centrum. Sen när man bygger ska förbereda för utbyggnad mot Gustavsberg. Det blir kort avstånd mellan stationerna i den första delen (sickla-ektorp) men sen ökar avståndet, vilket jag tycker en tunnelbana ska ha.
Detta är ett förslag som SL bör ta väldigt seriöst, och jag förstår inte varför SL tyckte att bygga Blå linjen var småpotatis, men detta skulle bli på tok för dyrt.
Det är samma underlag som nuvarande blå linjen, om man inte vill bygga en ny bro vid skurusundet, Fine, gör en tunnel under vattnet. SL stötte på liknande problem med andra linjer, och det var ju inte dyrt.
Starta en grupp på facebook vet ja!
---
Add Comment
Fill out the form below to add your own comments.
Strict Standards
: Non-static method fileio::read_file() should not be called statically in
/www/htdocs/sgraman/blog/scripts/sb_fileio.php
on line
13
---