The Star of Tomorrow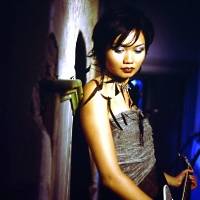 Bic Runga, or Briolette Kahbic Runga which is her actual name, makes music the way spiders spin webs: instinctively, alone with a simple beauty and seeming ease belying the strength of her creations. "I remember the first song that I wrote" says Bic, who started on drums at age 11 and picked up guitar at 14. "I remember bringing it to a band and suddenly thinking it wasn't my song anymore. That's when I decided that I wanted to do my own thing."

When the native New Zealander says "I do my own thing," she means it - in every way. Bic Runga penned every song on her debut DRIVE (1997), played an assortment of instruments and produced it as well. Although she comes from a family of musicians (her mother sang in Malaysian night clubs and both of her older sisters play in bands), Bic is the first to point out how unusual her position is: "People find it hard to believe and I understand why. I'm 21 and just starting and there aren't many 21 year-olds who write, play and produce their own debut albums, but I like to take control and feel like it's all mine."

The result is an album of beguiling and unique songs: the charming jangle of "Sway," the earily appealing "Swim," the thunder-in-a-jar percussion of "Sorry." The quiet intimacy and less-is-more nature of the album as a whole portray Bic as a special, yet accessible, artist... human but with a somewhat otherworldly edge. At the age of 18, Bic left her hometown of Christchurch in New Zealand's sparsely populated South Island, for Auckland in the North. Center of New Zealand's music scene, Auckland is known to indie pop aficionados around the world as the base of Flying Nun Records, purveyors of the clean yet quirky distinctly New Zealand sound (the Clean, the Chills, Garageland, et. al.). "Flying Nun does invade your consciousness," says Bic. "It's been an indirect influence on me. My album is not as polished as most big budget productions, it's got a certain rawness a lot of New Zealand bands have."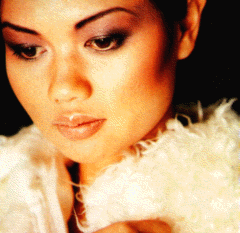 Absorbing the sounds around her in Auckland, Bic began writing, playing cafe gigs and recording with characteristically steadfast conviction. "Eventually, I got a demo tape together and took it up to Sony and they liked it" says Bic. "The first single that came out in New Zealand was one of those demo tracks - they released it as it was."
Remarkable? Even more so is the fact that said single - since re-recorded as the delicately powered title track of DRIVE - was written just minutes before her first solo performance in Auckland. "I didn't have enough songs to make up a 40 minute set," she recalls. "I feel the best songs write themselves, in a sort of stream of consciousness way - they aren't labored over."
Not that Bic doesn't have a serious work ethic. After getting her record deal, she released two more successful singles, headlined shows, opened for the likes of Crowded House's Neil and Tim Finn, then threw herself into DRIVE. She gladly accepted guidance from legendary producer/manager Peter Asher, whom she had met at a music conference. "He knew I wanted to produce the record myself and so offered support without stepping on my toes," says Bic. She hand-picked a few musicians from the Auckland scene and went about the business of making her art in her own way. "Recording studios can be quite antiseptic places, so I recreated a home environment with lamps and rugs and things," she says. "Also, most of the vocals were recorded in my home. I just took the gear from the studio home with me."
Having completed recording, Bic hooked up with Matt Wallace (Faith No More, John Hiatt) and went to Los Angeles, where Wallace mixed the album. Bic then returned to New Zealand and delivered DRIVE to Sony. The album entered the New Zealand charts at #1, where it remained for a month, and by the end of 1997, DRIVE had been a fixture in the Top 10 for 20 consecutive weeks. Bic has ensured the album's success by touring, fronting the band she assembled to interpret her music in an acclaimed live setting; Bic's live performances with her band are intense and mesmerising.
One of the album's hallmarks is its uncluttered, spacious quality. "If you've got a good song, you're halfway there," Bic reasons. "you don't need to crowd it with much else." On DRIVE, restraint yields radiance, simplicity equals style and Bic Runga redefines the term DIY. "Whether people like the album or not doesn't worry me because I've made myself happy with it," she says. "It's actually reassuring to know that it's all on my head."
On her head, via her soul, from her heart, DRIVE is going places and Bic Runga is at the wheel.


Bic Runga is a rare kind of artist.
In an age of increasing musical specialisation, it is rare to find a woman who not only writes, sings and plays but also produces her debut album. Rarer still when that artist is only twenty-one years old. Hailing from Christchurch, New Zealand, Bic grew up in a family where music and art were positively encouraged. ("Stupid hippie things that don't make money", she says with a laugh.) Her mother had been a lounge singer in Malaysian night-clubs in the '60s; her father and two older sisters also played and sang. Drums were eleven year old Bic's first passion; by her mid-teens she was singing with jazz groups. At school she toyed with ambitions of becoming a poet but, after taking up guitar and keyboards, channelled her muse into writing her own songs. Bic moved to Auckland in 1994 to pursue a recording career, and spent a year writing, performing and building a reputation with her powerful solo live shows.
In September 1995, aged nineteen, Bic signed as a recording artist with Sony Music New Zealand and in December that year Sony released her first single, the hauntingly beautiful "Drive". The song charted top ten in the national chart sales and won her the prestigious 1996 Silver Scroll, an award for excellence in song writing previously held by such celebrated New Zealand songwriters as Shona Laing, Dave Dobbyn and Strawpeople. Throughout 1996, Bic performed nationally, heading her own shows as well as sharing stages with such legendary New Zealand names as Crowded House's Neil Finn and his brother Tim.
Bic's second single, "Bursting Through" was released in September 1996 and went top twenty, A third top ten single, "Sway" followed in May 1997. By this time Bic was already focused on her next milestone; the making of her debut album, "Drive."
Bic was determined that to realise the sounds she heard in her head, she must have control of the album's production. "If the job had been given to someone else I would have spent the whole time stressing about it", she says.
In the pre-production stages, Bic had the invaluable assistance of legendary producer and A&R man Peter Asher (James Taylor, Linda Ronstadt, Bonnie Raitt), who expressed an eagerness to be involved after hearing her demos. He helped Bic choose which of her songs to record (from a shortlist of 21), and gave expert advice on the arrangements.
Entering Auckland's Revolver Studios in May 1997, Bic completed recording in a feverish three weeks. She worked with a core band of guitarist Andrew Thorne, bass player Aaron McDonald and drummer Wayne Bell, as well as playing many instruments herself: guitars, mellotron, xylophone, drums. "I'm not a great drummer", she says, "but my playing has a sort of pubescent energy that I like. My drumming is dumb, in a positive way. Sometimes session players can be too clever".
As producer, Bic adopted a less-is-more policy. "I wanted the album to sound sparse and spacious. I don't like music that is too busy". It was also important to her that the album recreated "the energy and adrenaline of a live gig".
To build an atmosphere for the recording, Bic shifted into the studio an array of furniture and lamps from home. "I took advice from Dave Dobbyn. He said bring in rugs, anything to make you feel comfortable. Picking the right time of day to record is important, too. Like early evenings". With tracking finished, it was off to LA. for the final mixdown, where in-demand mixing engineer Matt Wallace (Faith No More, John Hiatt) brought the album to completion.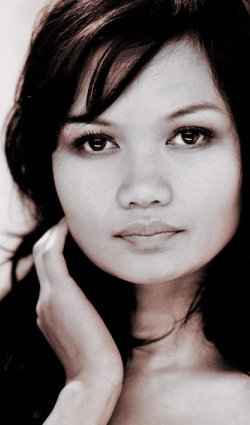 Those who meet Bic may be surprised at the contrast between her bright, bubbling personality and the dark, brooding quality of some of her tracks on Drive. Says Bic; "I keep my morbid side to myself, but that tends to be the side of me that writes the songs". There is nothing one-sided about Drive however. These eleven tracks are proof of a rich, full talent. And this is only the beginning.


Bic was born on January 13, 1976. Her debut album has now achieved 6 X platinum in New Zealand! She won seven major awards including Album of the Year, Single of the Year ("Sway"), Best Female Vocalist and Best Songwriter in the 1998 New Zealand Music Awards. Most of 1998 and early 1999 she was on tour promoting her album, see review below. In August 2000 Bic took a break from recording to tour New Zealand with fellow NZ musicians Tim Finn (Split Enz, Crowded House) and Dave Dobbyn. The sell-out tour covered 17 cities and the CD released from the tour is the best selling NZ live CD ever.
"Birds", her latest album, was released in New Zealand on Nov 28, 2005 and the new single is called "Winning Arrow". At the "New Zealand Music Awards" in 2006 Bic won Best Album, Best Female Solo Artist and Best Producer, and Andre Upston won Best Engineer for Birds. Congratulations to Bic!
In December 2003 Bic released "Live in concert" with Christchurch Symponic Orchesta. It's a 11-song collection and the first Bic's done with a symphonic orchestra. It has some new songs not released on her previous albums, including one song in French. If you don't live in New Zealand, try to get your copy from Amazon.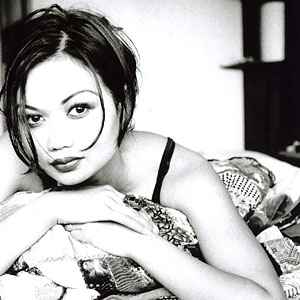 Bic held a concert as support act to Neil Finn in Munich, Germany on October 28, 1998. Click here and read my review.
If you want to know more about Bic - read news, view pictures, listen to her music, visit any (or many) of these exellent sites:
Bic Runga's Official Site by Sony
Bic At MySpace
Suddenly Strange by Rhys Arnold
bic Rungadotnet by Richard K

---
| Contact and Feedback |