Strict Standards
: Non-static method fileio::read_file() should not be called statically in
/www/htdocs/sgraman/blog/scripts/sb_fileio.php
on line
13
Strict Standards
: Non-static method arrays::explode_key() should not be called statically in
/www/htdocs/sgraman/blog/scripts/sb_entry.php
on line
254
Strict Standards
: Non-static method fileio::read_file() should not be called statically in
/www/htdocs/sgraman/blog/scripts/sb_fileio.php
on line
13
Strict Standards
: Non-static method fileio::read_file() should not be called statically in
/www/htdocs/sgraman/blog/scripts/sb_fileio.php
on line
13
Strict Standards
: Non-static method fileio::read_file() should not be called statically in
/www/htdocs/sgraman/blog/scripts/sb_fileio.php
on line
13
Strict Standards
: Non-static method fileio::file_listing() should not be called statically in
/www/htdocs/sgraman/blog/scripts/sb_fileio.php
on line
29
Strict Standards
: Non-static method fileio::file_listing() should not be called statically in
/www/htdocs/sgraman/blog/scripts/sb_fileio.php
on line
29
Strict Standards
: Non-static method fileio::read_file() should not be called statically in
/www/htdocs/sgraman/blog/scripts/sb_fileio.php
on line
13
Strict Standards
: Non-static method fileio::write_file() should not be called statically in
/www/htdocs/sgraman/blog/scripts/sb_fileio.php
on line
17
Strict Standards
: Non-static method fileio::make_dir() should not be called statically in
/www/htdocs/sgraman/blog/scripts/classes/fileio.php
on line
70

Any Treekie know what that implies. And still, in the actual Star Trek tv show the line was never said. Even if The Original Series might look somewhat tacky today it was glittering in the 60's with all it gizmos and futuristic stuff.
But it was also sending the message of peace and unity to all of us. The episodes always had a deeper message to help everybody make ourselfs a better world, and the messages got through.
I always liked Star Trek, and The Next Generation is my favorite. But it misses the No.1 geek thing I always wanted to have myself - The communicator from TOS. Whenever Captain Kirk left the Enterprise, there were always three things he made sure he was equipped with. His Phaser, a tear-away shirt, and his Communicator.
Now I can get one for myself, and then just flip up the grill and I'll be greeted with the lights and sounds from the show, including "Spock here, Captain." - "Scotty here, Captain." - "Transporter room ready to beam up."
You can one too from
Think Geek
for a lousy US$30.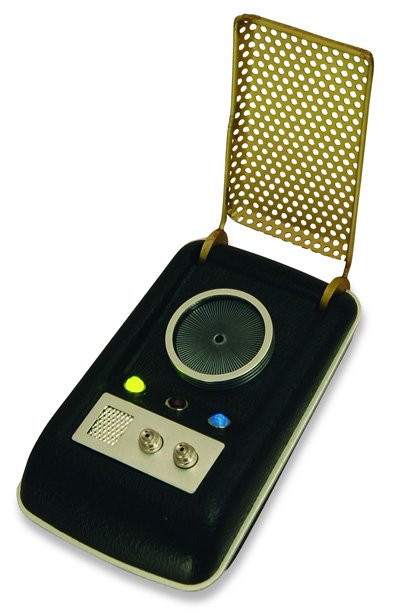 ---
Add Comment
Fill out the form below to add your own comments.
Strict Standards
: Non-static method fileio::read_file() should not be called statically in
/www/htdocs/sgraman/blog/scripts/sb_fileio.php
on line
13
---