Strict Standards
: Non-static method fileio::read_file() should not be called statically in
/www/htdocs/sgraman/blog/scripts/sb_fileio.php
on line
13
Strict Standards
: Non-static method fileio::read_file() should not be called statically in
/www/htdocs/sgraman/blog/scripts/sb_fileio.php
on line
13
Strict Standards
: Non-static method arrays::explode_key() should not be called statically in
/www/htdocs/sgraman/blog/scripts/sb_entry.php
on line
254
Strict Standards
: Non-static method fileio::read_file() should not be called statically in
/www/htdocs/sgraman/blog/scripts/sb_fileio.php
on line
13
Strict Standards
: Non-static method fileio::read_file() should not be called statically in
/www/htdocs/sgraman/blog/scripts/sb_fileio.php
on line
13
Strict Standards
: Non-static method fileio::read_file() should not be called statically in
/www/htdocs/sgraman/blog/scripts/sb_fileio.php
on line
13
Strict Standards
: Non-static method fileio::read_file() should not be called statically in
/www/htdocs/sgraman/blog/scripts/sb_fileio.php
on line
13
Strict Standards
: Non-static method fileio::read_file() should not be called statically in
/www/htdocs/sgraman/blog/scripts/sb_fileio.php
on line
13
Strict Standards
: Non-static method fileio::read_file() should not be called statically in
/www/htdocs/sgraman/blog/scripts/sb_fileio.php
on line
13
Strict Standards
: Non-static method fileio::read_file() should not be called statically in
/www/htdocs/sgraman/blog/scripts/sb_fileio.php
on line
13
Strict Standards
: Non-static method fileio::read_file() should not be called statically in
/www/htdocs/sgraman/blog/scripts/sb_fileio.php
on line
13
Strict Standards
: Non-static method fileio::strip_extension() should not be called statically in
/www/htdocs/sgraman/blog/scripts/sb_fileio.php
on line
41
Strict Standards
: Non-static method fileio::strip_extension() should not be called statically in
/www/htdocs/sgraman/blog/scripts/sb_fileio.php
on line
41
Strict Standards
: Non-static method fileio::strip_extension() should not be called statically in
/www/htdocs/sgraman/blog/scripts/sb_fileio.php
on line
41
Strict Standards
: Non-static method fileio::read_file() should not be called statically in
/www/htdocs/sgraman/blog/scripts/sb_fileio.php
on line
13
Strict Standards
: Non-static method fileio::file_listing() should not be called statically in
/www/htdocs/sgraman/blog/scripts/sb_fileio.php
on line
29
Strict Standards
: Non-static method fileio::file_listing() should not be called statically in
/www/htdocs/sgraman/blog/scripts/sb_fileio.php
on line
29
Strict Standards
: Non-static method fileio::file_listing() should not be called statically in
/www/htdocs/sgraman/blog/scripts/sb_fileio.php
on line
29
Strict Standards
: Non-static method fileio::read_file() should not be called statically in
/www/htdocs/sgraman/blog/scripts/sb_fileio.php
on line
13
Strict Standards
: Non-static method fileio::read_file() should not be called statically in
/www/htdocs/sgraman/blog/scripts/sb_fileio.php
on line
13
Strict Standards
: Non-static method fileio::strip_extension() should not be called statically in
/www/htdocs/sgraman/blog/scripts/sb_fileio.php
on line
41
Strict Standards
: Non-static method fileio::strip_extension() should not be called statically in
/www/htdocs/sgraman/blog/scripts/sb_fileio.php
on line
41
Strict Standards
: Non-static method fileio::strip_extension() should not be called statically in
/www/htdocs/sgraman/blog/scripts/sb_fileio.php
on line
41
Strict Standards
: Non-static method fileio::strip_extension() should not be called statically in
/www/htdocs/sgraman/blog/scripts/sb_fileio.php
on line
41
Strict Standards
: Non-static method fileio::strip_extension() should not be called statically in
/www/htdocs/sgraman/blog/scripts/sb_fileio.php
on line
41
Strict Standards
: Non-static method fileio::strip_extension() should not be called statically in
/www/htdocs/sgraman/blog/scripts/sb_fileio.php
on line
41
Strict Standards
: Non-static method fileio::strip_extension() should not be called statically in
/www/htdocs/sgraman/blog/scripts/sb_fileio.php
on line
41
Strict Standards
: Non-static method fileio::strip_extension() should not be called statically in
/www/htdocs/sgraman/blog/scripts/sb_fileio.php
on line
41
Strict Standards
: Non-static method fileio::strip_extension() should not be called statically in
/www/htdocs/sgraman/blog/scripts/sb_fileio.php
on line
41
Strict Standards
: Non-static method fileio::strip_extension() should not be called statically in
/www/htdocs/sgraman/blog/scripts/sb_fileio.php
on line
41
Strict Standards
: Non-static method fileio::strip_extension() should not be called statically in
/www/htdocs/sgraman/blog/scripts/sb_fileio.php
on line
41
Strict Standards
: Non-static method fileio::strip_extension() should not be called statically in
/www/htdocs/sgraman/blog/scripts/sb_fileio.php
on line
41
Strict Standards
: Non-static method fileio::strip_extension() should not be called statically in
/www/htdocs/sgraman/blog/scripts/sb_fileio.php
on line
41

It's amazing to see how fast technology evolves. Supercomputers have always been gigantic. Cray has come up with a supercomputer that will fit underneath your desk. It's called the CX1. Soon, we will see houses and homes run by supercomputers, being able to do what PCs aren't yet able to do. With one centralized supercomputer, you will just need terminals all over your house, not a whole bunch of different computers.
The CX1 packs 16 Intel Xeon processors, either dual or quad-core, with 8 supercomputing nodes that can accommodate 64GB of memory per node. Internal storage tops out at 4TB. The top model is yours for a mere €58 000, but if you want a budget suggestion, this is what I would choose. And it's only €23 000...
Model CRAY CX1
Total Processors 2 CPUs
Total Memory 16 GB RAM
Total Storage 1800 GB
Configuration Detail:
System CXC108 Chassis
Redundant Power Supplies Single Phase Hot Swap Power Module (Kit of 2)
Form Factor Deskside Rolling Tray
Warranty CXC108 - 3 Years Onsite NBD - 9 x 5 Tel Support (NA)
CS5408 Storage Node CS5408 (DP - 8 x HS HDD)
Processor Xeon Quad-Core E5462 2.8GHz 12M 1600 MHz, 2 pieces
Memory 4GB FBDIMM DDR2 800MHz ECC/Reg., 4 pieces
Internal Fixed Hard Drive 200GB 7.2K RPM SATA 3Gbps 2.5"
Raid Controller RAID controller LSI SAS/SATA 8708EM2 8 ports, 3GB/s
Hot-Swap Hard Drives 200GB 7.2K RPM SATA 3Gbps 2.5", 8 pieces
Remote Management Remote Management Module
Operating System Microsoft Windows HPC Server 2008 (HPCS)
Operating System Support MSHPC2008 - 1 Year 9 x 5 Tel and Web support, unlimited incidents
Warranty CS5408 - 3 Years Onsite NBD - 9 x 5 Call Center Support (NA)
Power Cord CX1 Power Cord, 2 pieces
Keyboard and Mouse Cordless Keyboard and Mouse
Monitor Samsung 24 inches LCD Monitor Black 245T, 2 pieces
On-Site Installation Services MSHPC2008 - Onsite Install - Premium Services (per CX1 system)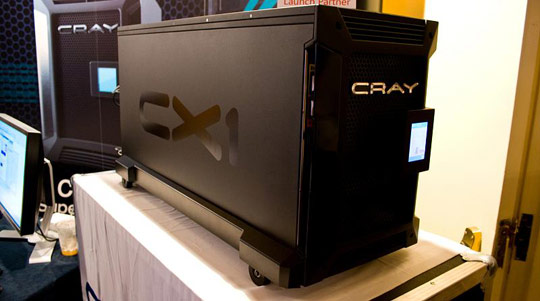 [ add comment ]
( 2753 views ) |
permalink
|





( 3 / 2285 )
---
<<First
<Back
| 11 | 12 | 13 | 14 | 15 | 16 | 17 | 18 | 19 | 20 |
Next>
Last>>